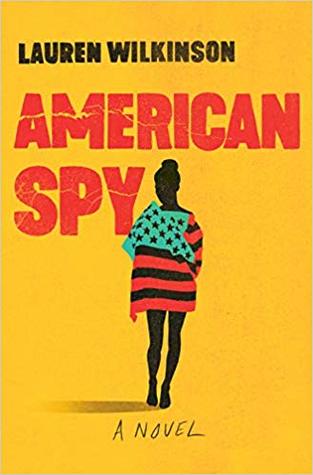 Title: American Spy
Author: Lauren Wilkinson
Copyright: February 12, 2019
Genre: fiction
Format: book
Pages: 304
Summary (from Goodreads):
It's 1986, the heart of the Cold War, and Marie Mitchell is an intelligence officer with the FBI. She's brilliant but she's also a young black woman working in an old boys' club, and her career has stalled out; she's overlooked for every high profile squad, and her days are filled with monotonous paperwork. So when she's given the opportunity to join a shadowy task force aimed at undermining Thomas Sankara, the charismatic, revolutionary president of Burkina Faso, whose Communist ideology has made him a target for American intervention, she says yes. Yes, even though she secretly admires the work Thomas is doing for his country. Yes, even though she is still grieving the mysterious death of her sister, whose example led Marie to this career path in the first place. Yes, even though a furious part of her suspects she's being offered the job because of her appearance and not her talent.

In the year that follows, Marie will observe Thomas, seduce him, and ultimately, have a hand in the coup that will bring him down. But doing so will change everything she believes about what it means to be a spy, a lover, a sister, and a good American.

Inspired by true events–Thomas Sankara is known as "Africa's Che Guevara"–this novel knits together a gripping spy thriller, a heartbreaking family drama, and a passionate romance. This is a face of the Cold War you've never seen before, and it introduces a powerful new literary voice.
About the Author (Lauren Wilkinson):
Lauren Wilkinson earned an MFA in fiction and literary translation from Columbia University, and has taught writing at Columbia and the Fashion Institute of Technology. She was a 2013 Center for Fiction Emerging Writer's Fellow, and has also received support from the MacDowell Colony and the Djerassi Resident Artists Program. Lauren grew up in New York and lives on the Lower East Side. American Spy is her first novel.
My Thoughts:
I pre-ordered this book as soon as I saw it come up on Goodreads. I was intrigued by the idea of a black female spy. I have read and enjoyed mysteries with black female sleuths but never read any book about a black female spy. The main character Marie Mitchell is an FBI intelligence officer. The book jumps back and forth through time and at first I found it jarring but quickly adapted. I like how Wilkinson used the form of a letter from Marie to her children to tell the story. It was a good way to help the story unfold.
Wilkenson also included the biases Marie faced within the FBI and how it prevented her from advancing her career. I think there are common challenges for black people when choosing to work for law enforcement whether it is a police officer, FBI or CIA agent. Working for the police force or other agencies of authority definitely presents black people a double bind in which a difficult situation in which, "whatever action you decide to take, you cannot escape unpleasant results." Because historically as well in the present many conflicting actions are taken against people of color by law enforcement. So for a minority, particularly a black and brown person it presents these troubling challenges.
Another aspect I really liked was that Wilkenson sprinkled historical facts throughout the story. One in particular was the mention of Fred Hampton of the Black Panther and the FBI's involvement in his murder. This is a history I know very little but this book has really peaked my interest to learn more. One such fact that she included was how often black protest groups or activists would be declared "communist enemies" in order to justify the FBI's infiltrations and actions against the groups.
The book speaks also to the complexity of using black agents in African countries to assist the CIA's objectives. It made me think about how easily we justify military intervention in other countries. There were so many things to think about during and after reading this book. Which I think is a good thing to become more aware and critical of the events happening involving our country.
I would give it a 4 1/2 butterflies and shy of 5 butterflies because of the abrupt ending and I look forward to her future books.  So glad I was able to read this book.
Happy Reading!
Belinda