I attended the Boston Book Festival in October of 2022 and I finally edited the videos I recorded to share a tiny bit of the sights. I am still working on my vlogging in public. I still find it hard to talk to the camera and record in public.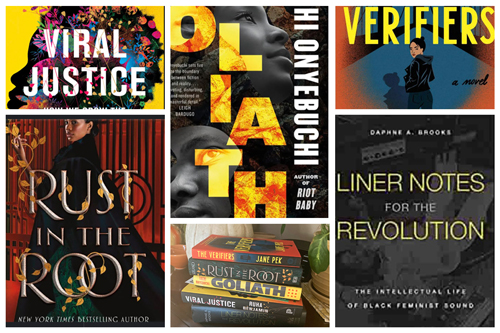 Since the pandemic began, they had held it virtually and it was good but nothing like the buzz and energy you get from gathering with other book lovers to listen to authors talk.
I have read two of Justine Ireland's books and loved them so she has moved to my auto-buy author list. When I heard she would be there and selling a new book, I had to get my hands on it. Her stories are historical fantasy and I am all here for them.
The author of the visionary New York Times bestseller Dread Nation returns with another spellbinding historical fantasy set at the crossroads of race and power in America.
It is 1937, and Laura Ann Langston lives in an America divided—between those who work the mystical arts and those who do not. Ever since the Great Rust, a catastrophic event that blighted the arcane force called the Dynamism and threw America into disarray, the country has been rebuilding for a better future. And everyone knows the future is industry and technology—otherwise known as Mechomancy—not the traditional mystical arts.
Laura disagrees. A talented young queer mage from Pennsylvania, Laura hopped a portal to New York City on her seventeenth birthday with hopes of earning her mage's license and becoming something more than a rootworker.

Harper Collins Publishers
I saw the description for this book online before going and the topic intrigued me. How the author would tie in musicians/singers and writers to analyze our society from another angle that I didn't even recognize. I like when books can open us up to new ways of thinking. This one is a chunker so I will take my time when I do sit to read it.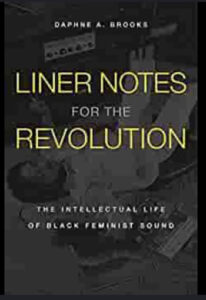 Liner Notes for the Revolution offers a startling new perspective on these acclaimed figures—a perspective informed by the overlooked contributions of other Black women concerned with the work of their musical peers. Zora Neale Hurston appears as a sound archivist and a performer, Lorraine Hansberry as a queer Black feminist critic of modern culture, and Pauline Hopkins as America's first Black female cultural commentator. Brooks tackles the complicated racial politics of blues music recording, song collecting, and rock and roll criticism. She makes lyrical forays into the blues pioneers Bessie Smith and Mamie Smith, as well as fans who became critics, like the record-label entrepreneur and writer Rosetta Reitz. In the twenty-first century, pop superstar Janelle Monáe's liner notes are recognized for their innovations, while celebrated singers Cecile McLorin Salvant, Rhiannon Giddens, and Valerie June take their place as cultural historians.

amazon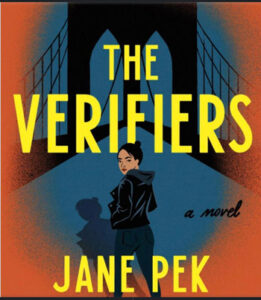 I love mystery books and this one had a twist on the "typical" amateur sleuth. I wish I had an opportunity to see her speak but her panel overlapped with another one so I was only able to purchase the book there. I look forward to this first book in a series.
Introducing a sharp-witted heroine for the 21st century: a new amateur sleuth exploring the landscape—both physical and virtual—of New York in a debut novel about love, technology, and murder.

Claudia Lin is used to disregarding her fractious family's model-minority expectations: she has no interest in finding either a conventional career or a nice Chinese boy. She's also used to keeping secrets from them, such as that she prefers girls—and that she's just been stealth-recruited by Veracity, a referrals-only online-dating detective agency.

A lifelong mystery reader who wrote her senior thesis on Jane Austen, Claudia believes she's landed her ideal job. But when a client goes missing, Claudia breaks protocol to investigate—and uncovers a maelstrom of personal and corporate deceit. Part literary mystery, part family story, The Verifiers is a clever and incisive examination of how technology shapes our choices, and the nature of romantic love in the digital age.

GoodReads
Let's take a moment to pause and admire the cover of this book. It totally caught my eye and then once I read the description, I knew I had to have it. I like to find books that don't just tell the reader the problems but provide real action items that can be done by an individual. I definitely want to get to this book this year.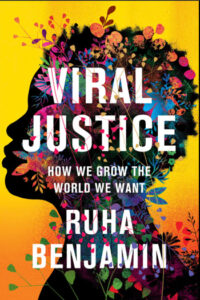 Long before the pandemic, Ruha Benjamin was doing groundbreaking research on race, technology, and justice, focusing on big, structural changes. But the twin plagues of COVID-19 and anti-Black police violence inspired her to rethink the importance of small, individual actions. Part memoir, part manifesto, Viral Justice is a sweeping and deeply personal exploration of how we can transform society through the choices we make every day.PRINCETON UNIVERSITY PRESS

PRINCETON UNIVERSITY PRESS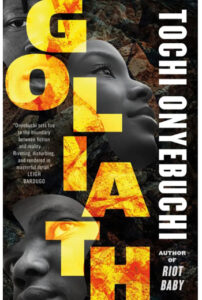 In the 2050s, Earth has begun to empty. Those with the means and the privilege have departed the great cities of the United States for the more comfortable confines of space colonies. Those left behind salvage what they can from the collapsing infrastructure. As they eke out an existence, their neighborhoods are being cannibalized. Brick by brick, their houses are sent to the colonies, what was once a home now a quaint reminder for the colonists of the world that they wrecked.

A primal biblical epic flung into the future, Goliath weaves together disparate narratives—a space-dweller looking at New Haven, Connecticut as a chance to reconnect with his spiraling lover; a group of laborers attempting to renew the promises of Earth's crumbling cities; a journalist attempting to capture the violence of the streets; a marshal trying to solve a kidnapping—into a richly urgent mosaic about race, class, gentrification, and who is allowed to be the hero of any history.

GoodReads
I own one of his other books but never seem to get around to it. Goliath is the first adult book that he has published. I really enjoyed his discussion on the panel at the book festival so I purchased this one and even got him to sign it for me.
I look forward to seeing who will be at next year's festival. It's always a great time.