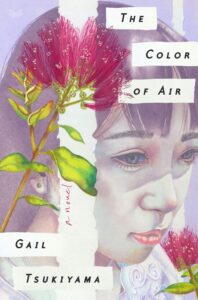 Good Reads Summary: From the New York Times bestselling author of Women of the Silk and The Samurai's Garden comes a gorgeous and evocative historical novel about a Japanese-American family set against the backdrop of Hawai'i's sugar plantations.
Daniel Abe, a young doctor in Chicago, is finally coming back to Hawai'i. He has his own reason for returning to his childhood home, but it is not to revisit the past, unlike his Uncle Koji. Koji lives with the memories of Daniel's mother, Mariko, the love of his life, and the scars of a life hard-lived. He can't wait to see Daniel, who he's always thought of as a son, but he knows the time has come to tell him the truth about his mother, and his father. But Daniel's arrival coincides with the awakening of the Mauna Loa volcano, and its dangerous path toward their village stirs both new and long ago passions in their community.
Alternating between past and present—from the day of the volcano eruption in 1935 to decades prior—The Color of Air interweaves the stories of Daniel, Koji, and Mariko to create a rich, vibrant, bittersweet chorus that celebrates their lifelong bond to one other and to their immigrant community. As Mauna Loa threatens their lives and livelihoods, it also unearths long held secrets simmering below the surface that meld past and present, revealing a path forward for them all.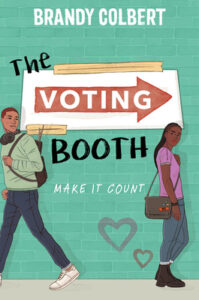 Good Reads Summary: From Stonewall Award-winning author Brandy Colbert comes an all-in-one-day love story perfect for fans of The Sun is Also A Star.
Marva Sheridan was born ready for this day. She's always been driven to make a difference in the world, and what better way than to vote in her first election?
Duke Crenshaw is do done with this election. He just wants to get voting over with so he can prepare for his band's first paying gig tonight.
Only problem? Duke can't vote.
When Marva sees Duke turned away from their polling place, she takes it upon herself to make sure his vote is counted. She hasn't spent months doorbelling and registering voters just to see someone denied their right. And that's how their whirlwind day begins, rushing from precinct to precinct, cutting school, waiting in endless lines, turned away time and again, trying to do one simple thing: vote. They may have started out as strangers, but as Duke and Marva team up to beat a rigged system (and find Marva's missing cat), it's clear that there's more to their connection than a shared mission for democracy.
Romantic and triumphant, The Voting Booth is proof that you can't sit around waiting for the world to change?but some things are just meant to be.
I have to stop collecting Brandy Colberts books and start reading. I had the opportunity to meet her at a book festival last fall and she was really wonderful. I bought,"The Revolution of Birdie Randolph" and she signed if for me. I so I need to step up. This one sounds timely and lot of fun.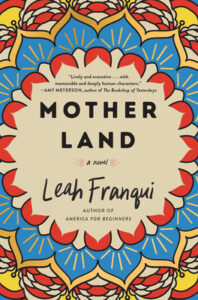 Good Reads Summary: When Rachel Meyer, a thirtysomething foodie from New York, agrees to move to Mumbai with her Indian-born husband, Dhruv, she knows some culture shock is inevitable. Blessed with a curious mind and an independent spirit, Rachel is determined to learn her way around the hot, noisy, seemingly infinite metropolis she now calls home.
But the ex-pat American's sense of adventure is sorely tested when her mother-in-law, Swati, suddenly arrives from Kolkata—a thousand miles away—alone, with an even more shocking announcement: she's left her husband of more than forty years and moving in with them. Nothing the newlyweds say can budge the steadfast Swati, and as the days pass, it becomes clear she is here to stay—an uneasy situation that becomes more difficult when Dhruv is called away on business.
Suddenly these two strong-willed women from such very different backgrounds, who see life so differently, are alone together in a home that each is determined to run in her own way—a situation that ultimately brings into question the very things in their lives that had seemed perfect and permanent . . . with results neither of them expect.
Heartfelt, charming, deeply insightful and wise, Mother Land introduces us to two very different women from very different cultures . . . who maybe aren't so different after all.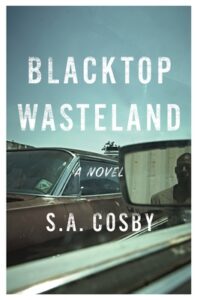 Good Reads Summary: Beauregard "Bug" Montage is an honest mechanic, a loving husband, and a hard-working dad. Bug knows there's no future in the man he used to be: known from the hills of North Carolina to the beaches of Florida as the best wheelman on the East Coast.
He thought he'd left all that behind him, but as his carefully built new life begins to crumble, he finds himself drawn inexorably back into a world of blood and bullets. When a smooth-talking former associate comes calling with a can't-miss jewelry store heist, Bug feels he has no choice but to get back in the driver's seat. And Bug is at his best where the scent of gasoline mixes with the smell of fear.
Haunted by the ghost of who he used to be and the father who disappeared when he needed him most, Bug must find a way to navigate this blacktop wasteland…or die trying.
This book makes me think of Attica Locke's Highway 59 series. I have not read them yet but something about this makes me think this book will be a good read.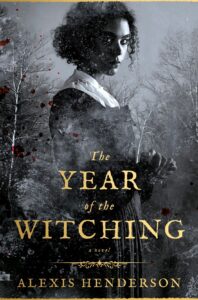 Good Reads Summary: A young woman living in a rigid, puritanical society discovers dark powers within herself in this stunning, feminist fantasy debut.
In the lands of Bethel, where the Prophet's word is law, Immanuelle Moore's very existence is blasphemy. Her mother's union with an outsider of a different race cast her once-proud family into disgrace, so Immanuelle does her best to worship the Father, follow Holy Protocol, and lead a life of submission, devotion, and absolute conformity, like all the other women in the settlement.
But a mishap lures her into the forbidden Darkwood surrounding Bethel, where the first prophet once chased and killed four powerful witches. Their spirits are still lurking there, and they bestow a gift on Immanuelle: the journal of her dead mother, who Immanuelle is shocked to learn once sought sanctuary in the wood.
Fascinated by the secrets in the diary, Immanuelle finds herself struggling to understand how her mother could have consorted with the witches. But when she begins to learn grim truths about the Church and its history, she realizes the true threat to Bethel is its own darkness. And she starts to understand that if Bethel is to change, it must begin with her.
This one sounds like a great one to read around Halloween time.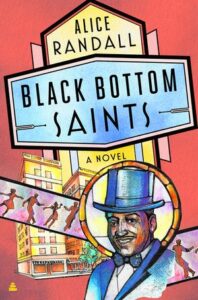 Good Reads Summary: An enthralling literary tour-de-force that pays tribute to Detroit's legendary neighborhood, a mecca for jazz, sports, and politics, Black Bottom Saints is a powerful blend of fact and imagination reminiscent of E.L. Doctorow's classic novel Ragtime and Marlon James' Man Booker Award-winning masterpiece, A Brief History of Seven Killings.
From the Great Depression through the post-World War II years, Joseph "Ziggy" Johnson, has been the pulse of Detroit's famous Black Bottom. A celebrated gossip columnist for the city's African-American newspaper, the Michigan Chronicle, he is also the emcee of one of the hottest night clubs, where he's rubbed elbows with the legendary black artists of the era, including Ethel Waters, Billy Eckstein, and Count Basie. Ziggy is also the founder and dean of the Ziggy Johnson School of Theater. But now the doyen of Black Bottom is ready to hang up his many dapper hats.
As he lays dying in the black-owned-and-operated Kirkwood Hospital, Ziggy reflects on his life, the community that was the center of his world, and the remarkable people who helped shape it.
Inspired by the Catholic Saints Day Books, Ziggy curates his own list of Black Bottom's venerable "52 Saints." Among them are a vulnerable Dinah Washington, a defiant Joe Louis, and a raucous Bricktop. Randall balances the stories of these larger-than-life "Saints" with local heroes who became household names, enthralling men and women whose unstoppable ambition, love of style, and faith in community made this black Midwestern neighborhood the rival of New York City's Harlem.
Accompanying these "tributes" are thoughtfully paired cocktails—special drinks that capture the essence of each of Ziggy's saints—libations as strong and satisfying as Alice Randall's wholly original view of a place and time unlike any other.
This sounds like such a fun informative book. I read her Soul Food Love book a while back and loved it.