I was in an IRL book club with the local Barnes and Noble, many years ago. I eventually left and joined a smaller group but then I decided I wanted to focus on what I wanted to read and avoid the awkward situation of reading books I didn't want to read. I also discovered Booktube and went down the rabbit hole of impulse buying.
Last year, as I really reigned myself in and tried to focus more on my reading goals, I started to miss the book club banter and one of my favorite booktuber friend (Didi) , announced her book club, I knew I wanted to join. I didn't join when she first started the year prior because I feared that I would feel awful when I didn't read a book. But after seeing Didi's wrap-up of the books that her book club read last year, I was sorry I hadn't joined sooner.
Didi does her annual #ReadSoulLit readalong for Black History Month, and she has the ability to find great new-to-me authors and fascinating books. So I finally decided to treat myself to a Christmas gift and joined her book club Patreon group.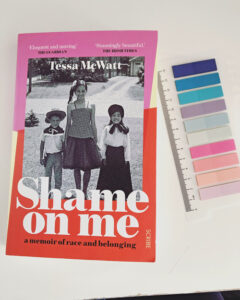 This book is the first selection of the new year for January. It is entitled, Shame on Me: A memoir of race and belonging. It is "a memoir that explores being mixed race in a predominantly white society and what and who we truly are."
I gathered some page flags because I know this one will have some interesting nuggets I will want to remember or discuss with the book club members at the wrap-up.
So here is to 2023 in a new book club to meet new friends and discover great reads!